For those of us who celebrate Easter with little ones, we have to prepare for the very important annual visit from the Easter Bunny. Easter baskets usually create visions of tons of candy and eggs - which, for a vegan, can be a daunting proposition! Fortunately, there are many great ways to put together a veg-friendly Easter basket for the little chick in your life.
This year, Baby M's Easter is pretty straightforward. We will be setting out her Easter basket (passed from Grandma to Daddy to her!) and leaving carrots for the Easter Bunny, naturally! Since she (thankfully) has no interest in things like candy, the Easter Bunny will be bringing her
a book
:
And these
adorable eggs
: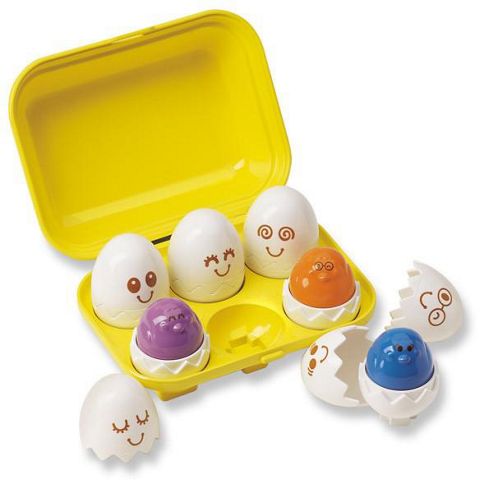 I have heard wonderful things about these eggs and that they are fun toy even beyond the holiday season because you can use them as a shape sorter, enjoy the squeaky "yolks," learn about colors, etc., so I was pretty excited about this find!
When Baby M is older, or if you have a toddler, you can add things like stickers, pencils, coloring books, or even a small stuffed animal to the basket if you would like to keep the candy at bay.
Of course, when Baby M is older, she will likely want to decorate eggs and get candy from the Easter Bunny. The good news is I have a couple of tricks up my sleeve that I think will work when the time comes! I should preface this by saying I am NOT at all craftsy or talented with this type of thing, so chances are if even I can pull this off, you will likely do an even more amazing job. :)
For decorating eggs, there's no need to hard boil eggs. Instead, you can pick up a pack of ceramic or wooden eggs and decorate those instead. You can dye them, paint on them, use markers, stickers - wherever your imagination takes you! And the nice thing about those eggs is you can keep them for posterity (and they don't stink!). For an Easter egg hunt, you can use your new fancy decorated eggs or else buy plastic eggs and fill them with stickers or little candies.
But what about candy? The good news is that accidentally vegan Easter candy abounds. We have been a fan of decorating with Starburst jelly beans or Jolly Ranchers hard candies or jelly beans. Skittles are also vegan (something I've leaned on during many a road trip!), as are Justin's dark chocolate peanut butter cups.
Or, if you are looking for something extra special (or just want to the traditional chocolate rabbit), look no further than
Farm Sanctuary for their vegan Easter bunny and basket
. It's delicious AND you're supporting a great cause, all at once!
So don't despair! Easter doesn't mean leaving tradition at the curb. In fact, you can continue to celebrate and show compassion for the wonderful animals that come to mind this time of the year, too. :)